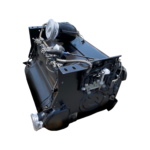 One Box Refurbishing Service
$999.00
Description
Bring your One Box back to life with our Proprietary One Box Refurbishing!
We have developed a proprietary One Box Refurbishing process to return your One Box back to it's optimal operation condition. Instead of spending thousands on a brand-new One Box, have your One Box refurbished for a fraction of the price. The refurbishing process may include, but not limited to:
Clean and repair of the DOCs
Clean and repair of the sensor bungs
Upgrade of the SCR dosing system
Clean and repair of the diesel particulate filters
Clean and revitalize the SCR catalyst
and more
Our refurbishing process is proven to extend the life of your One Box. Saving you time and money. Learn more about our process and how it works here.
Upon purchase of our service, we will provide you with instructions on how and where to ship your One Box. 
***DISCLAIMER***
While our One Box refurbishing may start at $999, the final price is subject to change. Once we receive and evaluate your One Box, the price may increase if the box needs substantial repairs, bung replacements, welding, DOC repair, etc. We will contact you prior to completing the refurbishing with a final total.